AUTOCLAVE
| | | |
| --- | --- | --- |
| | | |
| CYLINDERICAL | | HORIZONTAL |
LABORATORY AUTOCLAVE VERTICAL
(PORTABLE MINI MODEL PRESSURE UPTO 20 PSI.)
Body made of Alluninium /Stainless steel. Single wall fitted with pressure gauge 20 PSI. spring loaded safety valve for pressure adjustment by manually. It is Hydraulic tested upto 40 PSI. Unit fitted with HEATING ELEMENT to work on 220 Volts A.C Complete unit supplied with Tripod stand.
WORKING CHAMBER SIZE DIA X HEIGHT
ALUMINIUM / STAINLESS STEEL
(a) 300 mm x 300 mm
(b) 300 mm x 375 mm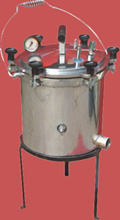 PORTABLE

LAB AUTOCLAVE DOUBLE WALLED VERTICAL
(RADIAL LOCKING SYSTEM)
Useful for sterlizing the loaded material under steam upto 15 P.S.I Electrically operated Double Walled. Boiling (Working ) chamber made of STAINLESS STEEL and outer body made of MILD STEEL furnished in durable enamel paint or stainless steel. Lid (cover) made of Heavy Gauge sheet. Stainless Steel lined inside the Lid or complete stainless stell.
HYDRAULIC TESTED UPTO 40 P.S.I Working pressure from 10 lbs to 15 lbs. provided with 'AUTOMATIC PRESSURE CONTROLL SWITCH (Adjustable from 10 P.S.I to 15 P.S.I (Control Switch Automatically cuts off the Electric Current to the Heater pressure reaches at require pressure and when pressure falls the pressure Automatically starts the Current to the Heaters. Boiling made of Heavy Gauge sheet. Lid having 'RADIAL LOCKING SYSTEM' having provision of PEDAL LIFTING DEVICE to assistant opening and closing Lid.

WORKING CHAMBER
(a) 450 mm x 250 mm
(b) 500 mm x 300 mm
(c) 550 mm x 350 mm
(d) 600 mm x 450 mm
(e) 750 mm x 550 mm

Complete unit is supplied with Stainless Steel Basket, Gasket, Safety valve, Water level Indicator, steam Release valve, pressure guage , Immersion Heater, ON / OFF SWITCH, Pilot lamp to work on 220 volts A.C S
OPTIONAL ACCESORIES :
(a) Low water level cut off Device for above Autoclaves
(b) Electric Time Switch
(c) Vacuum Breaker for Safety Device pressure guage.